New needs and opportunities appear on the platform every day. Every day suppliers place new offers about products, every day Ukrainian retail orders goods for stores, and manufactures order raw materials for production.

It seems that not much time has passed, but we can already note some trends in the use of the platform. During the war, almost all businesses faced the same problem — logistics. This trend was noted by both small businesses and large enterprises.
According to majority of the National Food Safety Platform ProdUkraine users, everything has changed since the beginning of the war. The terms of cooperation and changes in logistics were reviewed due to the fact that for some time it was the number one problem for almost every business in Ukraine. Businesses are registering on the platform to find new customers right now, to provide themselves with the opportunity to work in the short and long term. Users have already noted that they are creating a base of contacts of suppliers and customers for the future. Some companies search for offers and contact each other, call directly on request, some are waiting for calls.
But it should be noted that ProdUkraine users have the opportunity to receive notifications with successful matches. Olena Dmitrieva, Head of the Offers department of the Auchan Ukraine Hypermarket, commented on the experience of using the platform: "I came to the platform by accident, and now we use it constantly. When others were just starting to roll over and come up with something, you already did that. Therefore, ProdUkraine with filters, sorting, and the ability to choose the product or manufacturer, I can approach the question from all sides, and it's very convenient. We place offers that we were unable to cover on our own, and I receive emails with contacts of the company that may cover our needs. This is a very important opportunity, not to check all the time whether there is something on my request. I'm just doing my job, and you're helping me use my time really wisely".
It is also important to note that supply and demand were disproportionate in April. This disproportion makes sense when we look at the food baskets of Ukrainians. We want to change small joys and big victories from the habit of living in wartime, which is now in the life of every Ukrainian.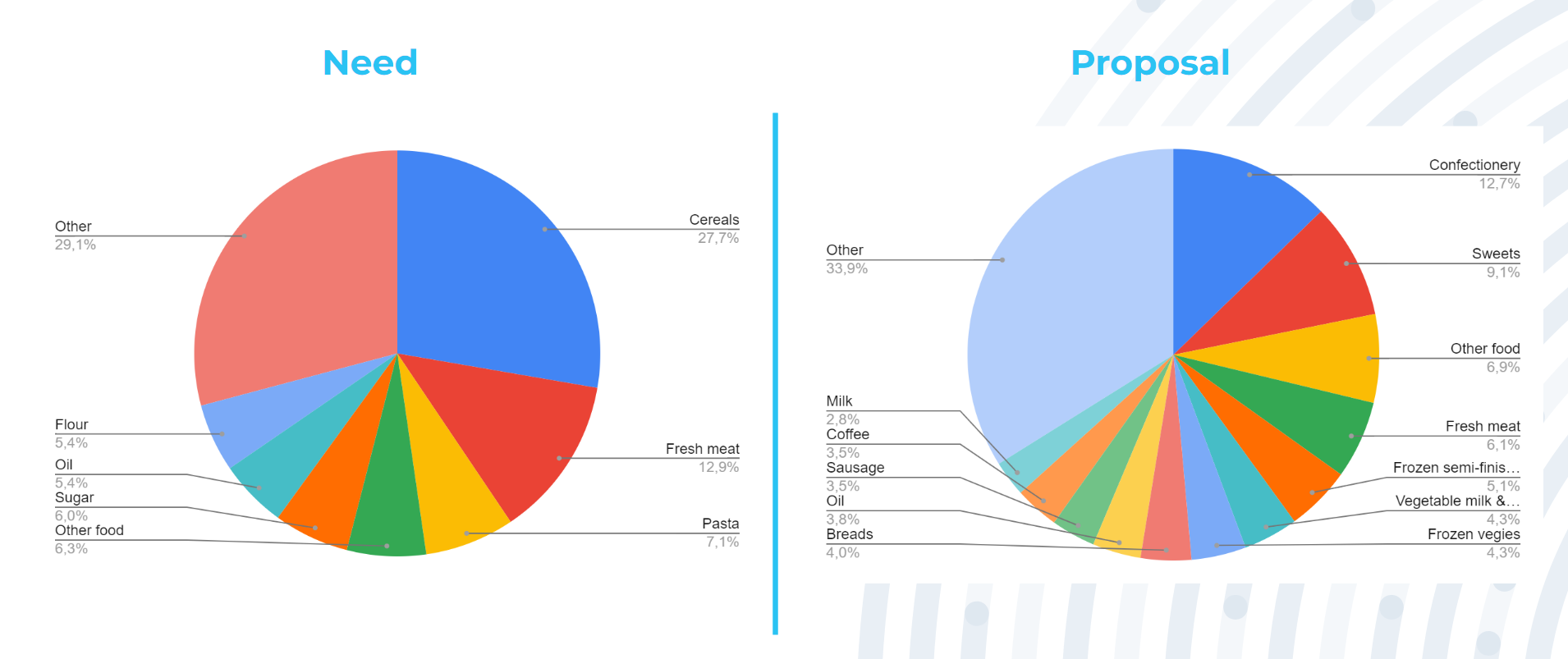 With each passing day, the platform's functionality grows and new opportunities for participants appear. The initiators of the platform are interested in registering as many local manufacturers and suppliers and retailers as possible. Foreign suppliers are also on the platform, so friendly countries are already involved in the mission to feed Ukraine.
Glory to Ukraine!